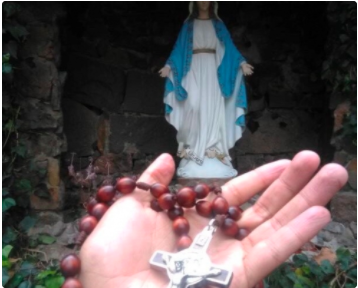 The Coronavirus, the New Normal and the Rosary
March 26, 2020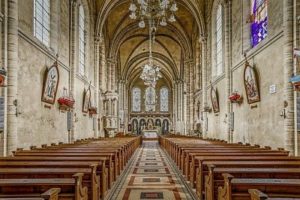 What a remarkable time to be alive. I probably don't need to spend much time explaining our current situation to you; I'm sure by now you're better-versed in our circumstances than you would ever hope to be.
Global pandemic. Shelter-in-place. Quarantine and isolation.
The Coronavirus, by threatening to take hundreds of thousands of vulnerable lives, has truly changed life as we know it. And as if a global health crisis weren't enough, we are also met with a host of secondary — though, not unimportant — concerns about what's to come in the days ahead. Will my grocery store restock? When will masses reopen to the public? How long will this all go on? Meanwhile, conversations about adjusting to a "new normal" abound.
A remarkable time to be alive, indeed.
I wish that I could provide you answers to these questions. I mean it. Nothing would give me more joy than to assure you that this will all be sorted out by tomorrow and that before long, your local shop will be overflowing with toilet paper once again. But I don't have those answers and many of the experts suggest we still have a long road ahead.
What will our "new normal" look like?
So, with that in mind, rather than clamoring for answers that may not exist yet, let's instead focus on a matter that is within our grasp: what will our "new normal" look like? The term itself can sound a bit scary. I know whenever I hear it, I feel a ping of uneasiness in my stomach. A new normal means change and, honestly, I really liked the way my life was a week ago. Sure, it wasn't perfect, but at least I was allowed to leave my house whenever I wanted!
On the other hand, this crisis certainly isn't without some silver linings. For instance, on a typical day, how many of us would have thought to FaceTime our loved ones and our families for no reason other than to check in? No agenda. No needs or wants from them. Just spending time together, even while not physically present to one another. If this sort of intentional connection with our friends and family is a part of our new normal, perhaps it's not so scary after all.
Opportunity for spiritual closeness
In a similar way, what if we viewed this time of social distancing as an opportunity for spiritual closeness. During this quarantine, many of us will have less work on our plate and more free time than we've had in years. What if this is our chance to rekindle our relationship with God and the Saints? Can we make spiritual growth a part of our new normal?
In these times of uncertainty, I can think of no better place to start this new routine than by regularly praying the Rosary. The Tradition of the Church is unanimous on this: the Rosary brings peace. Pope St. John Paul II affirmed the Rosary's "peaceful effect on those who pray it" while Pope Benedict urged all Catholics to abandon themselves to Mary by reciting it daily. Last week, in the face of our world's troubles, Pope Francis asked all Catholics to pray the Rosary.
There's no question about it, when faced with the unknown, worry, and anxiety, we can find peace by turning to Our Lady.  Even now, in times when we cannot embrace one another, Mary holds us in her hands and constantly intercedes on our behalf to her Son.
As we settle into new routines and figure out what our new normal is, I know that mine will include praying the Rosary. Will you join me? How about your whole family? Praying even a decade a day is a tremendous opportunity to grow in the faith and feel the peace that Mary has to offer.
Rosary Prayer Intentions
There's no shortage of things to pray for today, but if you need some ideas for intentions while you're praying the Rosary, here are a few that are on my list:
For peace, because in times of trouble, there is no safer place to be than wrapped in the mantle of Our Lady.
For all those who are struggling with illness
For all those who are struggling with fear and anxiety.
For our leaders, that they may make righteous decisions to protect the most vulnerable among us.
To come to know Mary better.
To come to know Jesus better.
St. Irenaeus said that "the glory of God is man fully alive." Therefore, as we live through this remarkable time, let us come fully alive by praying the rosary and fostering a new normal of spiritual growth in our lives and in our homes.
Looking for an aid to help you pray the rosary? Click HERE to learn more about our rosary meditations or HERE to download free meditations on the Sorrowful Mysteries!
Written by Debbie Staresinic
Debbie serves on the Board of Directors at Ruah Woods Press (RWP) in Cincinnati, a non-profit ministry committed to spreading the message of Theology of the Body (TOB) throughout the world. Debbie is the author of two rosary books written through the lens of TOB – On a Mission to Love: Rosary Meditations for Children and Families and Theology of the Body Rosary Meditations: Contemplating Christ's Love for His Bride the Church. All of the proceeds from the books support RWP's Rooted: K-12 Theology of the Body Curriculum