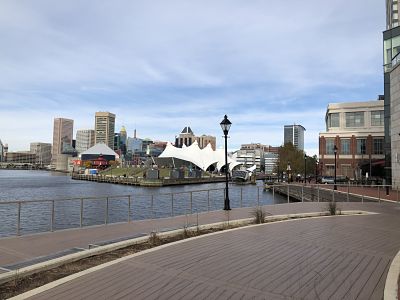 Finding More Beyond Baltimore
April 17, 2020
Dear Friends,
Crab cakes, The Inner-Harbor, Little Italy, and the Baltimore Orioles are just a few of the elements of celebration we are missing from this 2020 Octave of Easter. We should have been in America's first Diocese, The Archdiocese of Baltimore, THIS week of Eastertide, meeting, greeting, embracing, educating and celebrating with all of you at the National Catholic Education Association (NCEA) Convention & Expo! Old friends and new friends, clergy and parish staff, principals and teachers, Superintendents and faith formation leaders, we miss you. Our hearts were filled with great excitement and anticipation as we looked forward to the gift of being with like-minded friends as we shared ROOTED: K-12 Theology of the Body Curriculum.
"I missed the reconnecting with our Theology of the Body family near and far – Midwest, West Coast, and believe it or not, Japan. Peace to you all praying and prospering in place." — Steve Deiters, Ruah Woods Press, Director, Curriculum Development
Thanks to a once in a lifetime (we hope) pandemic, the Ruah Woods Press staff instead are all homebound in Greater Cincinnati connecting with each other and world-wide educators through laptops, rather than in a true live "communion of persons." Through the power of technology, our team meets daily to lift up in great prayer all Catholic teachers that have found themselves now navigating education through distance and screens. We pray for the needs of the world but we especially ask God to have this be a time of grace in hardship.
This time of crisis in our world is also an opportunity for us all. While death and suffering is being experienced in our communities, churches and homes, there is also spiritual renewal, family closeness and a slower pace of life which point to the both/and of our Catholic identity. Jesus and Mary. Justice and mercy. Life and death. Water and wine. God and man.
Yes, we missed baseball and great food, those celebrations that make us human, AND more importantly we missed introducing all of you to our FINALLY complete ROOTED: K-12 Theology of the Body Curriculum!  Last April at the NCEA in the Archdiocese of Chicago, our ROOTED K-5 and high school curriculum Called to Be More was complete but our grades 6-8 were pilot curriculum. At the now cancelled NCEA in Baltimore we had the first opportunity to share with all of our friends the outstanding completed ROOTED: K-12 Theology of the Body Curriculum! Alleluiah!
Yes, we are in a pandemic, a global health crisis AND we cannot forget the world is truly experiencing a crisis of human identity. When we come out of this and get back to our church and school communities, this human identity crisis will indeed still be present. Even though we pray for a "new normal," the fast-paced secular culture is working and waiting to feed our youth lies on materialism, gender and rob them of their inherent human dignity. Sadly, statistics on suicide, Mass attendance and belief in the presence of Christ in the Eucharist support this. Self-gratification in place of self-gift.
"I'm sorry to have missed an opportunity to give Catholic educators hope in response to the current educational crisis evident in the identity confusion their young students are experiencing. ROOTED: K-12 TOB Curriculum provides proper formation in and clarity of God's design and plans for the human person." —Evie Estes, Ruah Woods Press, Curriculum Support
The great news is we have an invitation offering an antidote to the culture of death ready to go for next school year! Talk about a cultural vaccine! By teaching Christian anthropology through ROOTED: K-12 Theology of the Body Curriculum, you can introduce to children who God really created each human person to be. Educators and parents have the opportunity to build a strong foundation proclaiming the dignity of every man and woman on earth. Body AND soul. Unique AND unrepeatable. Male AND female. Image AND likeness. Truth AND beauty. Free AND total. Faithful AND fruitful. Law AND love. Vocation AND gift. Death AND resurrection.
In June of 2019 The Vatican released from the Office of Congregation for Catholic Education, Male and Female He Created Them  calling for programs such as ROOTED to address this crisis on human identity. I invite all of you to read this outstanding proclamation. Ruah Woods Press also hosted a webinar on this topic which you can view here: 10 Things Every Catholic Should Know About Gender Theory  We thank our chaplain Father Tom Wray for walking us through this document.
"I missed the networking and fellowship with friends across the Church. The energy and stories of Catholic educators putting their faith in action are always inspiring to me. Blessings to all on your continued teaching ministries!"  
— Fr. Tom Wray, Ruah Woods Press, Chaplain and Curriculum Consultant
Please know we are here to support every school and parish program as we face and combat this cultural crisis. Rather than return to "normal" — we are called to establish a new, better normal, a new Christ-centered normal. Our vision is for the world to embrace Theology of the Body learning to live as a total gift-of-self through our vocation to love. Our vision to have every parish and school become a Theology of the Body Campus, where the fruits of the spirit come to life and every person comes to know they and every person is a gift. Let's re-imagine a world where charity, joy, peace, patience, kindness, goodness, generosity, faithfulness, gentleness, modesty, self-control, and chastity are this new, Christ centered normal.
Contact me soon to begin discussion on bringing TOB through ROOTED alive next school year lstrietmann@ruahwoods.org ! I truly missed being with all of you in Baltimore. The entire Ruah Woods Press family is here to walk you through the steps of making the gift of Theology of the Body for every student a reality in the 2020-2021 school year.
Our Lady of Lourdes, Patroness of those who are sick (body and soul), PRAY FOR US! St. Bernadette, on your Feast Day, pray for us!

Written by,
Laura Strietmann,
Ruah Woods Press, Curriculum Consultant