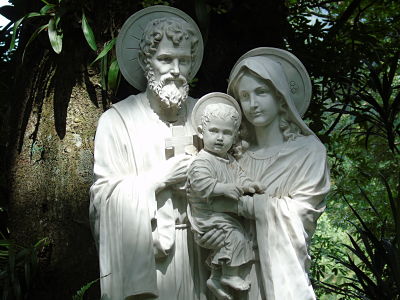 A Silent Remedy
June 29, 2020
The Need for Divine Assistance
Out of nowhere, it seemed like everyone started talking about it. My roommate came home with books on it. I got a text from my sister telling me to look into it. A coworker was constantly bringing it up in conversation. And my fiancée's parents were going through the preparation for it. None of these people know each other, and it was all happening in such a short amount of time. "This must be a big deal," I thought to myself.
You may be thinking I am referring to the coronavirus, which would make logical sense, right? (Especially since COVID-19 has made its way into every conversation.) However — I am not. So then "what could he possibly be talking about?!" you may be wondering. What I am actually talking about is consecration to St. Joseph. Just as quickly as COVID-19 has changed the world, I have seen this consecration transform hearts and lives. And I have been blessed to be a part of it.
A Time of Preparation
On Easter Sunday, my fiancée's parents gave us Fr. Donald Calloway's new book Consecration to St. Joseph: The Wonders of Our Spiritual Father. We were eager to begin, so my fiancée suggested beginning right away so that we could finish on May 13, the Feast Day of Our Lady of Fatima (the day I was actually planning to propose to her! But that's a story for another day.). Leading up to our consecration day, the love of my life and I spent over a month learning about the hidden life of this silent saint. In short, we learned that St. Joseph wants to be our spiritual father. I would like to give you a taste of what we walked away with! Not many have ever considered the number of people who have had favors answered by this powerful intercessor, or the extent that St. Joseph suffered on behalf of Our Lord and Our Lady, or just how much the Evil One trembles before the man whom God himself chose to adopt Jesus as his own son! But unless you stop to reflect on what this means, you won't be able to accept him as your spiritual father. You must first know him.
Seeking His Intercession
Those who have gotten to know St. Joseph have witnessed that "never was it known that anyone who fled to protection, implored help,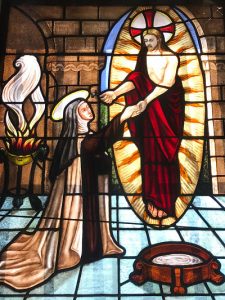 or sought intercession was left unaided". One of the individuals who would agree with this is St. Teresa of Avila, who wrote:
"I wish I could persuade everyone to be devoted to the glorious St. Joseph, for I have great experience of the blessings which he can obtain from God. I do not remember that I have ever asked anything of him which he has failed to grant. I am astonished at the great favors which God has bestowed on me through this blessed saint, and at the perils from which he has delivered me, both in body and in soul. To other saints, the Lord seems to have given grace to help us in some of our necessities. But my experience is that St. Joseph helps us in them all; also that the Lord wishes to teach us that, as he was himself subject on earth to St. Joseph, so in heaven he now does all that Joseph asks. This has also been the experience of other persons whom I have advised to commend themselves to the saint. I only request, for the love of God, whoever will not believe me will test the truth of what I say, for he will see by experience how great a blessing it is to recommend oneself to this glorious patriarch and to be devoted to him". (Consecration to St. Joseph, pg. 96)
After reading St. Teresa's witness, I was personally moved to begin constantly asking for this great saint's assistance. Almost instantly, St. Joseph has begun to aid me in marvelous ways! A good father helps his children when they are in need. He also lays down his life for them.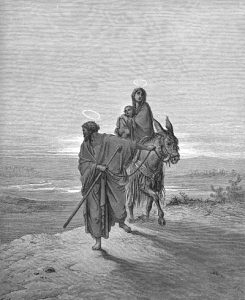 As I mentioned, one thing that this preparation period helped me see was how often St. Joseph laid down his life for his beloved wife and son. One of the titles given to St. Joseph is "Savior of the Savior". This does not mean that he is God, or even greater than God…but that he saved the savior. How did he do this? St. Alphonsus Ligouri comments on the childhood of Christ, when he says that Joseph "not only provided with food, with a dwelling, and with clothes; but saved from death, delivering from the hands of Herod." (163) Did you catch that? This human that God appointed as his father saved him from this first encounter with death! That is amazing! While it was a great feat, it did not come without a cost. He suffered greatly in doing so, because if you remember, when he was told by the angel Gabriel to go to Egypt, he "was not told that children would be slaughtered and mothers would witness the death of their children". (167) Blessed Bartolo Longo said that the moans and cries that would have echoed through the city, "filled the hearts of Mary and Joseph with tremendous sadness." (168) As you can imagine, this chapter literally made me weep as I read how much this husband and father suffered for his family. He endured so much pain, so much agony, but loved so well through it all. And it is because of this man's purity, love, and strength that the Enemy is terrified of him.
Another title of St. Joseph is "terror of demons". He is such a living testimony to the glory and power of God, that the devil cannot stand his presence! But often when he is depicted in artwork, he is not presented as a strong, masculine defender, but as a frail and elderly man. Fr. Calloway says, "Sadly, sometimes he is even presented as soft and effeminate. This is far from the truth of who St. Joseph is as a man. Saint Joseph is a dragon-slayer! His lily is not the cane of an old man; it is the lance of a knight! Rare is the artist who has depicted the lily of St. Joseph as a sharp weapon piercing the serpent dragon. What the Church needs today are images that depict St. Joseph as a dragon-slayer. He worked with manly tools, chopped wood, and swung a sharp axe! Such images are needed in homes and churches today to convey the real manhood of St. Joseph." (120) (Newly commissioned artwork portraying St. Joseph can found here.) Talk about lighting a fire in your heart! I am so glad that we have him on our side, as Christians.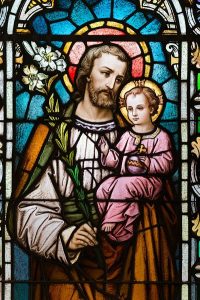 St. Joseph is truly on our side. Even more so, he wants to be YOUR spiritual father. In a world where masculinity and femininity, where fatherhood and motherhood, and ultimately the human person are all under attack — we need a strong defender, like him. The Father is the protector of the family, and God has chosen St. Joseph to be the protector and defender of His family. May you and your families welcome St. Joseph warmly into your hearts and homes. And lastly, may he assist our world in understanding God's original plan for life and love, as male and female, which he and Our Lady lived so well. Amen.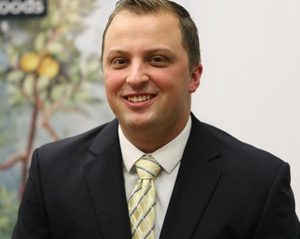 Written by,
John David Kimes,
Ruah Woods Press High School Curriculum Consultant