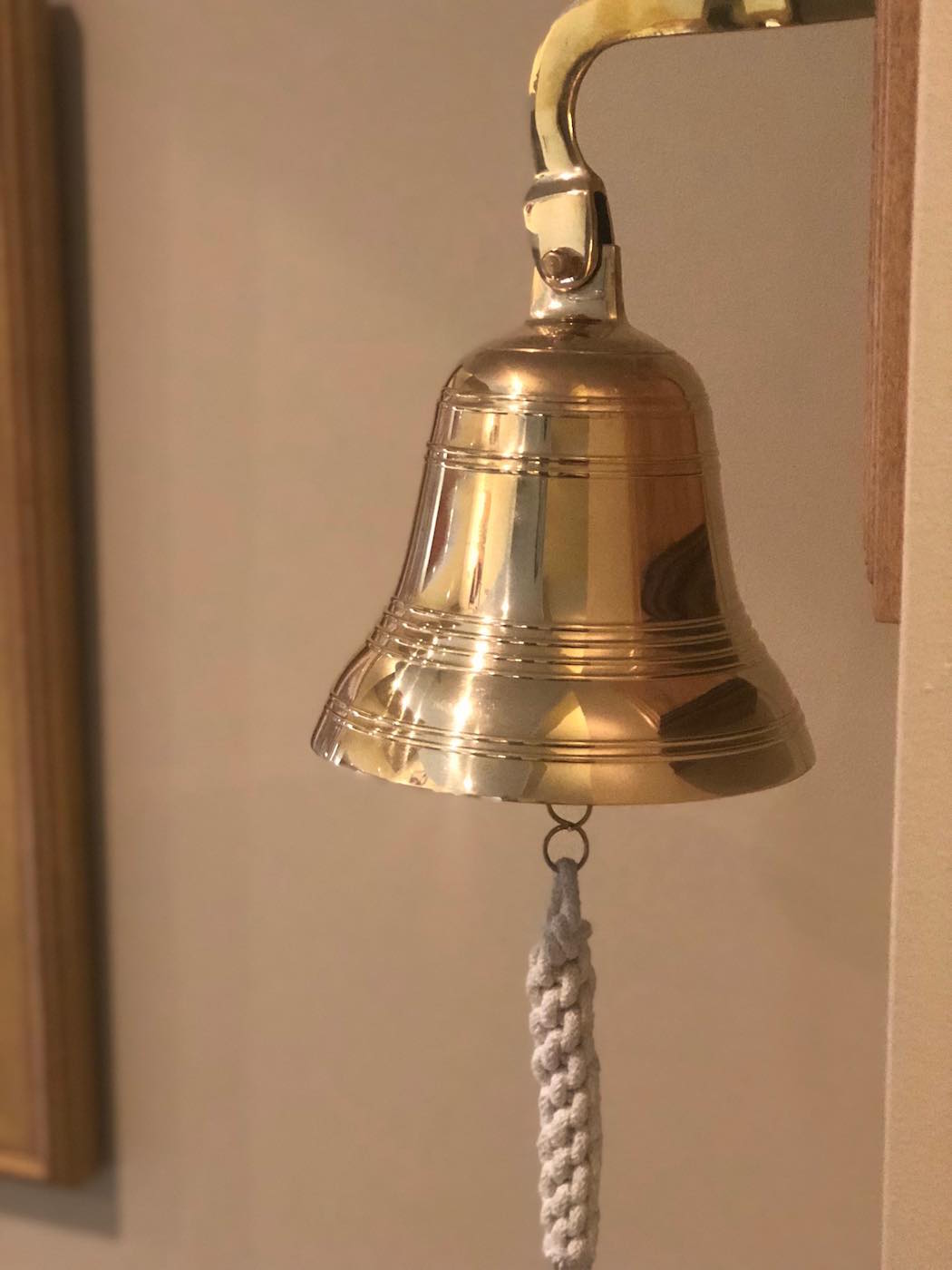 Bell Ringers!
January 01, 2020
What is this Bell Ringer you speak of?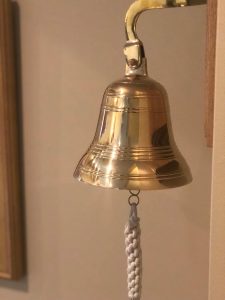 Located in the lobby of our New Evangelization Center is a brass bell mounted on the wall. We have a somewhat loud tradition of ringing the bell every time beautiful news happens here. This is what we call a bell ringer. And now we wish to share some of our exciting and blessed 'bell ringers' with you!
Here's a sampling DING DING DING DING…
AUGUST 2020 — BELL RINGERS!
— August 3. First time RWP President Michael Grasinski enters the dojo. Great to finally have him on board after a three month search. He's rested and ready to take on this Great Commission at Ruah Woods Press — that every school and parish across the US become a TOB Campus — where every body is seen as a gift bearing the fruits of the Holy Spirit. With God all things are possible.
— August 6. Receiving the Gift online training went live yesterday. Already signups coming in from France, California, Boston and more. Let the network grow! Come Holy Spirit…!
JULY 2020 — BELL RINGERS!
— July 2. Seminary intern Jeff Stephens discovers TOB Parent School. A talented and dedicated mom with outstanding teaching credentials is starting a non-profit in Portland, OR (TOBParentschool.org) to promote and support parents teaching TOB to their children using the ROOTED K-12 curriculum!
— July 6. Faria Education Group signed a contract to distribute the Standards for Christian Anthropology through their global education networks!! Seeds of hope are being planted who-knows-where. God, the Creator of all Living Things, is pretty handy with seeds.
JUNE 2020 — BELL RINGERS!
— June 12. Our first TOB Campus registered in California. Kolbe Academy — Trinity Prep. May God pour out his graces on this forward thinking organization in Napa. And may this seed continue to grow and bear the Fruits of the Holy Spirit — charity, joy, peace, patience, kindness, goodness, generosity, gentleness, faithfulness, modesty, self-control and chastity.
— June 18. We just received word from a leading Archdiocese in the US: they are integrating the Standards for Christian Anthropology (TOB Standards) into their education requirements. To open space for the teaching of Theology of the Body, they are dropping requirements to teach Marriage and Family life standards. This marks a recognition of Theology of the Body — the meaning of what it means to be human and to love — as remote marriage preparation! Here, Gift-of-Self becomes the model of behavior for successful marriages and vocations to the priesthood and religious life! It's both countercultural and life-giving!!
MAY 2020 — BELL RINGERS!
— May 26. En misión de amor (our Spanish version of On a Mission to Love — family rosary meditations) arrived in the house! We have copies being purchased every week — eventually going out to 8,500 homes and parishes across the country.
— May 27. Getting back to "a better" normal. DJ just conducted his first live Theology of the Body Teacher Training in the 8 weeks since Corona rocked (and locked) our world. Blessings to the teachers in Atlanta. The truth will prevail.
APRIL 2020 — BELL RINGERS!
— April 8. Art files left the building for the printer for Mission to Love…actually…En misión de amor (our Spanish version of this lovely TOB rosary meditations book for the family). SO grateful to author, Debbie Staresinic, for providing both the Spanish translation and artwork! Hermosa! Soon families across America and beyond will be storming heaven with the sound of the rosary and precious contemplations of our Lord's life through the lens of Theology of the Body…in Spanish!!
— April 20. Ruah Woods' own Laura Strietmann and Fr. Tom Wray were invited to contribute video presentations to the upcoming free TOB Virtual Conference May 8-10. This will be a 3-day powerhouse of prayer and inspiration and a tremendous building up of the TOB community.
MARCH 2020 — BELL RINGERS!
— March 20. Went live with our God's Gift of Time program to offer Called to be More FREE for teachers, students and their parents for 5-weeks while they are homebound to explore this remarkable teaching together during Lent. DAY 1: 99 signed up and still climbing!   And here's a related Thank You note we received…"Dear Evie — We are so grateful for your kind help in this very difficult situation we have been confronting in France. God Bless you abundantly, and Saint Jean Paul II keeps interceding for the Ruah Woods Press team.  In Christ,  C. B. from France."
— March 30. Created and launched simplified FREE K-8 lesson plans for parents and teachers to work with students who are homebound as part of God's Gift of Time. DAY 1: 220 signed up.
FEBRUARY 2020 — BELL RINGERS!
— Feb 18. National Interviews around our June Teacher Training.  John David on Kresta in the Afternoon and DJ on Catholic Connection with Teresa Tomeo. The Holy Spirit is helping to spread the word to the corners of the nation that need to hear it most.
— Feb 26. Prayed the Divine Mercy Chaplet as the first session of our once a month Novena for the continued spreading of Theology of the Body in our country. This Novena is a collaboration of our sibling JPII organizations across the country. Prayer is the heart of our ministry. Special thanks to David Savage at the TOB Institute for getting this started.
JANUARY 2020 — BELL RINGER!
— Jan 21. NOTE from Citizens for Community Values. Dear DJ — I just wanted to send a quick thank you note to let you know how greatly I was blessed by your InspirED Conference presentation and the passion that you have for Ohio's youth. God has blessed you with communication to clearly and effectively paint a picture of developing a Theology of the Body from the ground up. I pray that God continue to strengthen and encourage you for this cultural battle in all that you do. Thank you again. R. C. esq.
— Jan 23. Good new from Kansas. Laura Strietmann made a swing by Kansas to speak at a large conference there and was blessed to be able to speak personally with Archbishop Naumann (KS) and Bishop Vincke (Salina) — two TOB titans! She also made contact with someone from the Archdiocese of Vancouver — their bishop is a great supporter of TOB. The Spirit is absolutely on the move.
DECEMBER 2019 — BELL RINGER!
— Dec 4. GRADE 7 and Dec 19. GRADE 8 Commonplace books and Teacher's Guides PRINTED and SHIPPED!! The last of the Mohicans have arrived. Our seven year adventure to produce the ROOTED: K-12 Theology of the Body Curriculum is an an end…now The Great Commission begins…
NOVEMBER 2019 — BELL RINGER!
— Nov 25. Diocese of Boise called today…scheduling DJ for custom teacher training for educators in their schools and parishes in JUNE 2020. PRAISE GOD!!
— Nov 18. Just this afternoon received the imprimatur for our Grade 8 ROOTED Curriculum! Next step printing and delivery! God is Good!!
— Nov 5. Received from the Superintendent of Catholic Schools Diocese of Savannah: Dear DJ — What an inspirational presentation of Theology of the Body! With a divers group of attendees — teachers, principals, Directors of Religious Education and youth Ministers, you were able to reach and inspire each person. I received many comments praising the presentation and seeking guidance on "next steps." Thank you. I will be in touch to discuss efforts to move forward….
OCTOBER 2019 — BELL RINGER!
— Ruah Woods Press is scheduled to present a keynote for the Diocese of Paterson (NJ) Catechetical Conference in April 2020!
— Laura passed along an email from the Diocese of Marquette — their entire diocese will be teaching the ROOTED Theology of the Body curriculum starting 2020!
— ROOTED Grade 6 books are shipping now. May God bless all educators and students receiving this curriculum for the first time!!!
SEPTEMBER 2019 — BELL RINGER!
— The TOB Campus HONOR ROLL went live Sept. 27 and features 14 schools, parishes and organizations from 4 states. (TOB CAMPUS: A Community of Persons where Everybody is Seen as a Gift.) The Holy Spirit is inspiring more schools and parishes to sign on and swell these numbers every week (TOBCampus.net). A year from now it will feature reports of what these beautiful institutions have done to teach Theology of the Body to their faculty, students, how they live it out every day, and the fruits of the Holy Spirit they have witnessed through this glorious effort. We have already heard from parents willing to move to be a part of a school or parish that is a TOB Campus.
AUGUST 2019 — BELL RINGER!
— ROOTED Curriculum Noted in National Catholic Register (Almost). A great article sprung up in the National Catholic Register by Janet Smith in support of the good work of the John Paul II Institute for Studies on Marriage and the Family. The ROOTED: K-12 curriculum is even referenced as one of the fruits of this prolific institution — just not by name. But we'll ring to that anyway.
— John David Kimes steps up to the plate as Curriculum Consultant for Called to be More — focusing on Catholic high schools in the Archdiocese of Cincinnati and those who found the 5-day free trail at RuahWoodsPress.com
JULY 2019 — BELL RINGER!
— Our Called to be More author Emily Macke is quoted in a National Catholic Register article, Vatican Document Fortifies Catholic Schools in Debate Over 'Gender Theory', where ROOTED is offered as a potential solution as a "beautiful and true vision of the human person."
— Seminarian Mike Willig reports that the Sisters of the Missionaries of Charity in Calcutta are teaching TOB using the ROOTED curriculum…a seed planted by Fr. Ethan Morre when he was visiting there. The sisters even presented the materials to the Archbishop, who has encouraged his priests to use them in schools/parishes. They also have a team of young adults who teach TOB in schools, and they are called John Paul II Theology of the Body Messengers (JTM for short!)
JUNE 2019 — BELL RINGER!
— Teachers unite around Theology of the Body! This June we hosted our largest assembly ever at Ruah Woods. Over 100 Catholic educators came together from across the country — Texas, California, Michigan, even Belize —  to attend our 3-Day Theology of the Body for Teachers course and 2-Day Special Topics: Gender and Sexual Identity course. The atmosphere was charged with positive energy as deacons, priests, and educators networked, shared and learned ways to bring Theology of the Body alive in the school and PRP classrooms. The week was grace-filled and brimming with the breath of the new evangelization and hope — the movement is growing.
—Dr Joan Kingsland, Curriculum Advisor at Ruah Woods Press was tapped by Catholic News Agency to review and comment on an important long-awaited Vatican document released June 10. Joan's comments on the Congregation for Catholic Educators "Male and Female He Created Them" appeared in a leading article on CNA's web page.  Following that, she was interviewed by Al Kresta on Ave Maria Radio's Kresta in the Afternoon on June 12 plus pro-life broadcaster Cullen Herout on the June 14 episode of Ready to Stand on Spirit Catholic Radio Network as well. In all instances, Joan provided a beautiful Theology of the Body articulation of the dignity of the human person espoused in the pivotal CGE document. Let the dialogue continue….
MAY 2019 — BELL RINGER!
— Dr Andrew Sodergren, Clinical Psychologist  lands a remarkable interview on Al Kresta Show airing on Ave Maria and EWTN radio. He scored a trifecta managing to speak on Ruah Woods Psychological  Services, our TOB Educator Training this summer plus Ruah Woods Press' ROOTED curriculum! On the SAME DAY, DJ Hueneman, Training and Development Coordinator made some waves via both Sacred Heart Radio's local and national hours on the Son Rise Morning Show showcasing our TOB Educator Trainings.
— Thank you, God! In mid-May, Ruah Woods Press experienced the BIGGEST Grades K-12 curriculum sales day in two years! Let the children come…
—Our Ruah Woods luncheon at Kenwood Country Club was the MOST successful fundraiser in our history by far (BOTH in attendance and donations). Special thanks to speaker Fr. Ethan Moore for a moving talk and Aaron Baer for his impassioned plea —BOTH Grand Slams.
APRIL 2019 — BELL RINGER!
– With the Eucharist in our chapel and the opportunity for Adoration and Mass on campus naturally we wanted to move to have a Chaplain on campus. Fr. Tom Wray of the Archdiocese of Cincinnati has made Ruah Woods his part-time home. He will also be helping us with the ROOTED Curriculum.
– George Weigel piece "The Easter Effect Today" published in First Things speaks on evangelization in a time where Christians are looked down upon. In this article, he mentions Ruah Woods Press ROOTED: K-12 Curriculum as a great tool for teaching to young students and raising them in a life giving way. This was sent to all bishops in the U.S.
MARCH 2019 — BELL RINGER!
-A school called to purchase the ROOTED curriculum and set up teacher training for this year! This was the fruit of a parent meeting. A wonderful parent called us to get more information and brought it to her child's school. Because of good and holy parent's involvement, schools and cultures are changing lives! YOU CAN TOO!
-We also had our first TOB interview of the series on "Driving Home the Faith." Thank you John David Kimes for speaking truth on the airwaves!
FEBRUARY 2019 — BELL RINGER!
–The Bishop of the Diocese of Steubenville will officially mandate the use our ROOTED: K-8 Theology of the Body Curriculum
— The Blessed Sacrament has officially arrived on the Ruah Woods Campus! We are already seeing the fruits flowing!
JANUARY 2019 — BELL RINGER!
— Multiple dioceses throughout the United States have contacted us to schedule teacher training for their educators
— 1st ever TOB sales webinar with over 200 attendees signed up
— Received word that we have permission from the Archbishop of Cincinnati to reserve the Blessed Sacrament on our Ruah Woods campus! Praise Jesus!
DECEMBER 2018 — BELL RINGER!
— A Donor purchased 1,000 rosary books for distribution through the Cincinnati Homeschool Associations!
–Grade 6-8 Pilot Program includes 508 teachers and 5,561 students in 27 different states!
–A church in the Diocese of Joliet has purchased 32 Kindergarten Units to begin a new style of Religious Ed with 64 families teaching Theology of the Body at home! They have also agreed to work with us to communicate this model to the rest of the country!
NOVEMBER 2018 — BELL RINGER!
— We have had some amazing news this November. It started with receiving the imprimatur – permission to publish – from Bishop Binzer, the Auxiliary Bishop of Archdiocese of Cincinnati, for our Semester 8 courses of Called To Be More. This now means the Called To Be More high school curriculum complete and has been approved by the church. This beautiful news came to us on November 8th.
— On November 29th, we received the imprimatur for course 5. This means that the K-5 grades of ROOTED: K-12 Theology of the Body Curriculum is now complete. We are right on schedule!
OCTOBER 2018 — BELL RINGER!
— This month we received a beautiful witness from Sister Stephanie. She teaches at an inner-city school in Chicago, IL. Please read on to see what she says about using our curriculum for a second year!
"I'm so excited about it. I really liked using it last year. When I did my review with my kids at the beginning of the year, several kids specifically remembered parts of your lessons at the beginning of THIS year from last year- a miracle in and of itself. Thanks for bringing such substantial material to my classroom."
— This past month Laura Strietmann has been very busy traveling to 10 different dioceses throughout the country. If you know of an event we should attend or would like us to meet with you about our curriculum please feel free to contact us: 513-407-8672 or www.ruahwoodsinstitute.org.
SEPTEMBER 2018 — BELL RINGER!
— Our Called to Be More high school curriculum, will be taught in a parish school in Ireland! We Are reaching the edges of our world.
August 2018 — BELL RINGER!
–Grade 3-5 is in! We have 200 units in our inventory shipping out to classrooms
— 10,000 Copies of On a Mission to Love are printed and bring distributed
JULY 2018 — BELL RINGER!
-Semester 7 of Called to Be More, our high school Theology of the Body program is online
–On a Mission to Love by Debbie Staresinic, is off to print this month
JUNE 2018 — BELL RINGER!
In June, we received word that Grade 3-5 is approved to receive the Imprimatur — with no changes necessary! (A testament to our outstanding author and quality assurance team.) With the official documents in hand we are ready to send final files out for printing. Then send them out to all of our amazing customers and supporters!