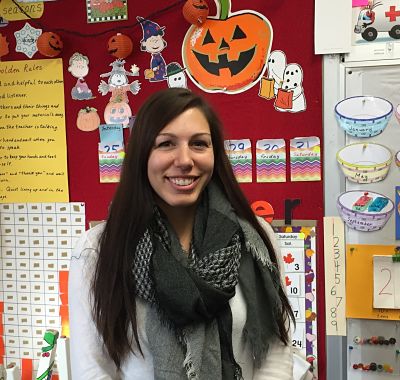 Blessed to Have Lauren Thorp Join Our Team!
February 26, 2021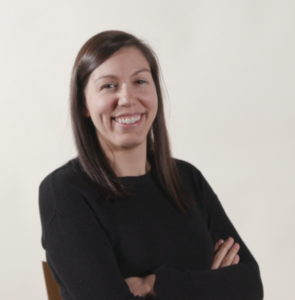 I am beyond excited to join the team at Ruah Woods Press and to share Theology of the Body with a world in need of these fundamental truths. As I look back on my life, I can see how God has prepared me for this move as an opportunity to make a difference. Annapolis, Maryland has been my birthplace and home for most of my life. Fortunately, my parents have always been devout Catholics, so they raised my siblings (two brothers and one sister) and myself in the truths of the faith. I graduated from Salisbury University in 2011 with a Communications degree, with a Media Productions track. Shortly after graduating as a Commercial Video Editor, I worked at a news station where I edited commercials for local businesses on the Eastern Shore.
The following years, I lived in Baltimore working as a photographer, where I traveled to many different Catholic schools in the Baltimore and Washington, DC areas. Additionally, for a little extra income, I was also working at a sushi restaurant, which led me to become a huge sushi fan (YUM)! It was around this time in my life, I felt called to teach. Therefore, I enrolled in a program to become certified as an early childhood and elementary school teacher.
In the middle of my teaching program, my older sister discovered that she was pregnant with twins! She was stationed in Tacoma, Washington, at the time (Army), so I put a pause on my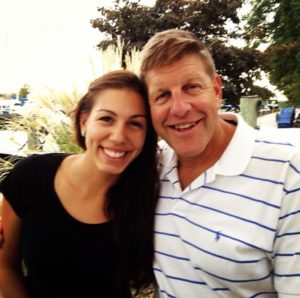 teaching certification to help with the twins after their birth. I packed up my small Honda Accord with everything I owned, and my Dad joined me on the 5-day cross country road trip to Washington state — even driving through a city called Thorp, Washington!
After several months of living in Tacoma, I got a job working as an Instructional Assistant for a Kindergarten class at a Catholic school in Seattle. After about a year, my Dad found out that he had a rare cancer called neuroendocrine tumor, or NET. The initial shock was difficult for me, as my parents were in Maryland and I was on the other side of the country. I felt conflicted on whether to move home — since I felt completely settled in Seattle; I had a full time job, good friends, and I belonged to a vibrant parish and a Crossfit gym that I loved. Eventually, through prayer and discernment, the Holy Spirit prompted me to move back home, and I am grateful, as I was able to spend the remaining months of my Dad's life with him.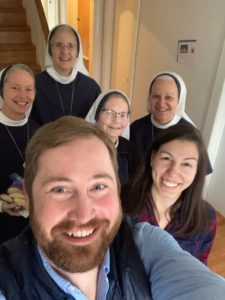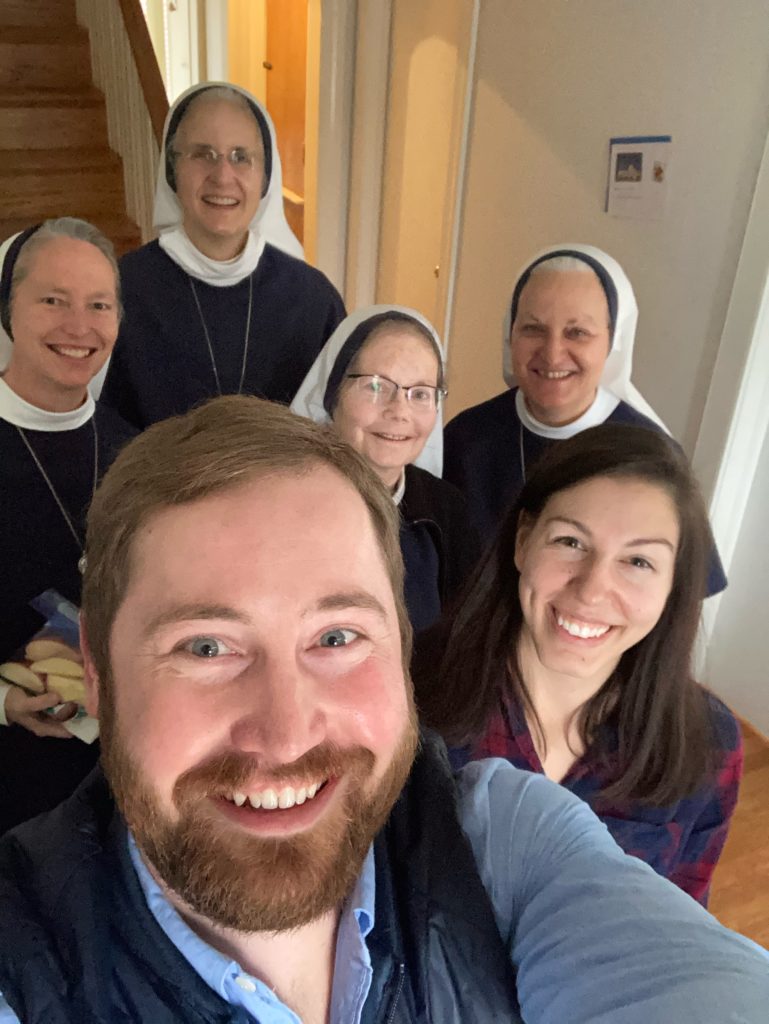 It was during this time that my Catholic faith really took flight. In 2018, I attended a Theology of the Body course at the JPII Institute for a week in the summer, and it really opened my eyes for the first time on the teachings of Pope St. John Paul II. Purposefully, I surrounded myself with authentically Catholic friends and spiritual mentors, who have made a tremendous impact on my spiritual life — most especially the beautiful religious community of the Sisters of Life. I completed my formerly paused education certification in Maryland and subsequently began a Master's program. Although I initially started in the Theology course of study at Loyola University in Baltimore, I wound up transferring and completing my Master's in Catechesis at Catholic University of America.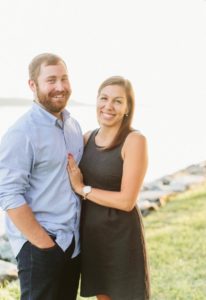 Fortuitously, in the fall of 2019, while pursuing my Master's degree, my fiancé Rob and I first met! Just as we were both walking into Holy Hour at Our Lady of Lourdes Church in Bethesda, MD, we introduced ourselves and briefly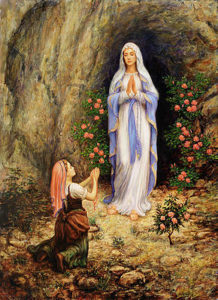 chatted. It was really a special God-moment for me (retrospectively), as my Mom had traveled to Lourdes, France, earlier that year as part of a Warrior to Lourdes Pilgrimage, and I had given her a prayer intention on a piece of paper for my future husband. Our "chance" encounter was just a few months later! We've captured the story of how we met, and the undeniable role the Blessed Virgin Mary has played in the match in a short two-minute video HERE.  Rob and I are thrilled to announce that we are getting married on May 8, 2021 at the Baltimore Basilica. It has been tough living in different cities for now, as I moved to Cincinnati for this position with Ruah Woods Press. But as our longings deepen, all the more joy and love that can fill those valleys upon our uniting in marriage.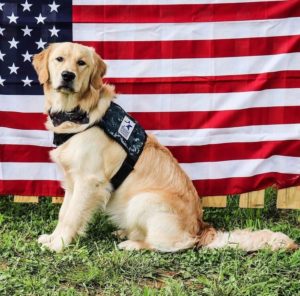 Bonus Fun News: Rob and I have JUST adopted a dog! He comes to us via the Warrior Canine Connection, an organization that trains service dogs for veterans in need. After my Dad, Owen Thorp, passed away, they actually named one of the trainee dogs "Owen" in dedication to my dad's military service. The dogs that do not "graduate" from the veteran training program can be released and adopted by families. Recently, Rob and I reached out to ask if they had any dogs available for adoption. On February 11, the Feast of Our Lady of Lourdes (TRULY!!), they shared with us that they had recently made the bittersweet decision to release Owen from the training to be adopted — and he will now be a part of our family! Providentially, they also let us know that they received our application at the same time they had decided to release Owen from the program, so it was totally God's timing (AGAIN!) in all of this. Our new addition even has his own Instagram page, which you can follow at: @wcc_owen.
As Ruah Woods Press' Marketing and Communications Specialist, I look forward to help expand our reach to spread the truth, goodness and beauty of TOB to reclaim the dignity of every unique and unrepeatable human person from conception to natural death.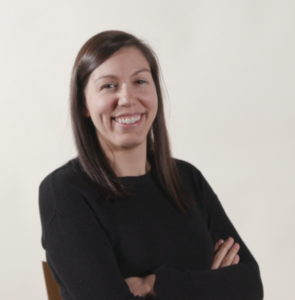 Written by:
Lauren Thorp,
Ruah Woods Press' Marketing and Communications Specialist