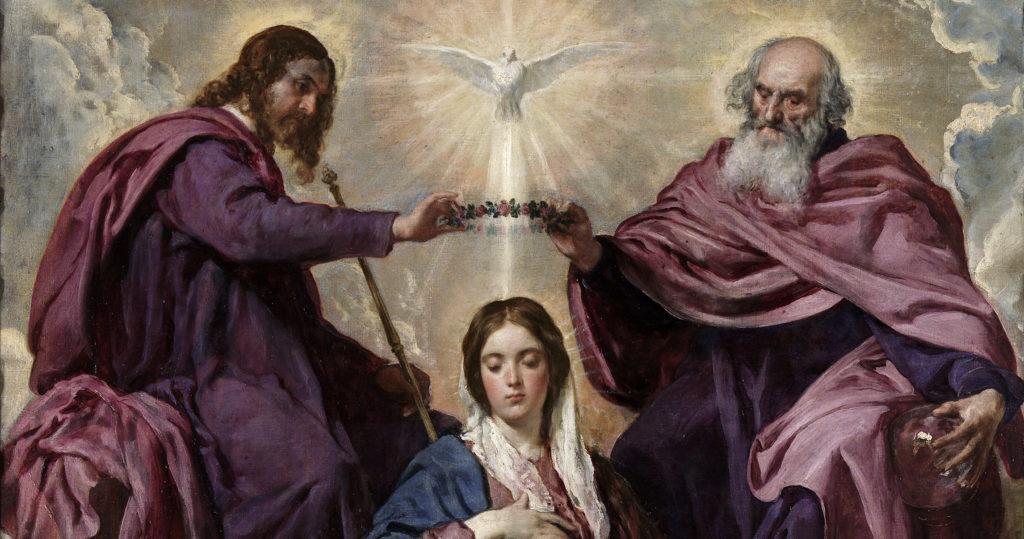 Mary's Coronation: A Gift for All
April 28, 2021
"The absolute and eternal spousal meaning of the glorified body will be revealed in union with God himself, by seeing him "face to face," glorified moreover through the union… that will unite all the "sharers in the other world," men and women, in the mystery of the communion of saints." —TOB 75:1
Mary is a model for each one of us because of her fidelity to the Lord, but also because she shows us, in a very real way, what we are to attain as a body-soul unity, the fruit of that fidelity. However, any discussion of the coronation of Mary must be predicated upon her assumption into Heaven thus becoming what Pope St. John Paul II calls an "eschatological icon" for mankind. By this, John Paul II simply means Mary, as an assumed and glorified human through the merits of Christ, points us to our ultimate destiny in the resurrection. Furthermore, he writes:
"Looking at the mystery of the Blessed Virgin's assumption, we can understand the plan of divine providence for humanity. After Christ, the incarnate Word, Mary is the first human being to achieve an eschatological ideal, anticipating the fullness of happiness promised to the elect through the resurrection of the body."
Not only does Mary show us our destiny, but she helps us along the way that we might be where she is for all eternity. Like a mother guiding her child across a busy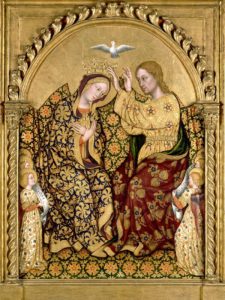 street, Mary directs us through the perils of this life because of the mercy and grace of Christ manifested in Mary as our mother in the order of grace. The abundant grace that God wills for us, comes through Mary's Immaculate Heart. When Mary gave her "fiat" to God, she truly became the mother of all who would be born anew in Christ, and it is in this that her Queenship takes root.
The same grace which preserved Mary from all stains of original sin, thus preparing the way for her divine motherhood, is the same grace which enthrones her as Queen of Heaven, raised even above the highest of angels as God's masterpiece. However, Mary did not earn her place as the Queen of Heaven, and her exaltation is not meant to alienate us from her, rather her grace and beauty are purely a gift from and, in fact, manifests God. Truly Mary exemplifies a basic Theology of the Body principle: the body reveals God!
The exposition of the supreme beauty and majesty of Mary, Queen of Heaven, is in fact a manifestation of the one who is the source of all that is beautiful, true, and good: the most Holy Trinity. Her majesty and coronation confirm her as Christ's gift to mankind, which he bestowed upon us at the foot of the cross. Thus, the coronation of Mary is a fruit of the consummation that took place on the cross where the New Adam and New Eve were revealed to the world. As evidenced by her life, Mary always leads us to her Son, and her coronation is no different. As we read in Pope St. Paul VI's Lumen Gentium:
"…on the completion of her earthly sojourn, was taken up body and soul into heavenly glory and exalted by the Lord as Queen of the universe, that she might be the more fully conformed to her Son, the Lord of lords and the conqueror of sin and death."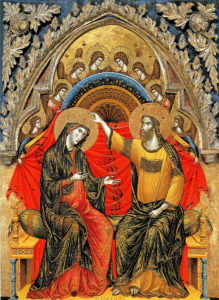 Everything that Mary has, does, and is, points to Jesus Christ, and thus it is fitting that He should crown her, who more than any creature, was most closely conformed to him. Mary's "fiat" gave God a human nature, and now God makes Mary a partaker in his very divinity, coronation par excellence. The great Dominican, Fr. Reginald Garrigou-LaGrange, who was also a mentor for John Paul II, points out that "…she shares connaturally, as the Mother of God, in His universal Kingship. Our Blessed Lord owes it to Himself to recognize His Mother's title in gratitude." Mary reigns with her Son and is a Queen in a very real sense, not just metaphorically. Like true royalty, she has power bestowed upon her from the almighty and rules with the goodness proper to one who's will is completely and utterly aligned with the will of God. As Fr. LaGrange also points out, Mary's power is such that she commands both men and angels according to the wisdom of the Lord and his providence which is abundantly generous.
God in his generosity does not make the coronation solely for the benefit of Mary but rather the coronation is an overflowing joy for all of humanity who are called to share in the same glory, albeit in different degrees. Mary's "mantle" is one of light, the light that shines in the darkness and envelops her children, protecting them from those who "…prowl about the world seeking the ruin of souls." I repeat, Mary's exaltation and coronation do not alienate us poor sinners from her, rather as John Paul II points out, it's the exact opposite:
"Thus, far from creating distance between her and us, Mary's glorious state brings about a continuous and caring closeness. She knows everything that happens in our life and supports us with maternal love in life's trials. Taken up into Heavenly glory, Mary dedicates herself totally to the work of salvation in order to communicate to every living person the happiness granted to her. She is a queen who gives all that she possesses, participating above all in the life and love of Christ."
When we meditate on the coronation of Mary this May, we should not only see the fidelity and glorious exaltation of God's plan for Mary but recognize God's plan for our eternal happiness. For under the mantle of Mary's Queenship, we are united in our resurrected bodies to the resurrected Christ for all eternity in the Communion of Saints.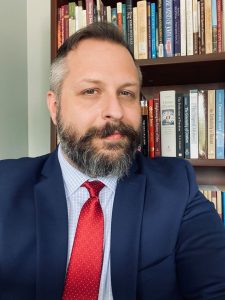 Written by,
Michael Grasinski,
President of Ruah Woods Press
---
John Paul II, Theotokos: Women, Mother, Disciple. 208.
Reginald Garrigou-LaGrange, Mother of the Savior and Our Interior Life. 227.